All over the country we read about hazing rituals and gangs, a sore subject for many of our youth caught up in it. I include college students in the youth category. I work at an agency that requires a full background check of potential hires. I can hardly hire a "qualified" African American because of a combination of bad credit and crime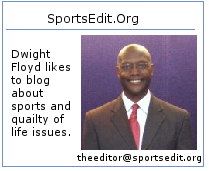 related issues, negative job history, and even a bad driving record. And guess what. It is not funny when I have to call and say, "I think you are a great person, but I cannot hire you." As regular as it has been, it is still painful to experience.

I have a sister who retired from teaching at a school in Gadsden County, Florida, a predominantly black community that at one time had one of the highest rates of HIV in the country. At least that was the reputation after being written about in a national magazine. She often tells the story of visiting a student's home to talk with her parents. In response, the mother of the student literally walked away leaving my sister, the teacher, standing at the doorway because in the parent's own words, "I gave all I'm gonna give. I'm going out to party now."

For whatever reason too many parents have gone out to party and are leaving it up to educators to instill values and teach their kids. Truth is, academics start at home; they used to. If we are to make our kids—and our neighbor's kids—employable and create fewer stories to laugh about, then we must begin as early as possible to educate them. The poorest parent without financial resources has the power to educate his or her child beyond

belief. Often underestimated and overlooked, reading to a child at the earliest stage of life is the greatest gift we can give short of birth; and one of the least expensive. Furthermore, as early two, three and four years of age we must grab our kids by the ear and drag them into an educational program the same way our parents used to drag us to church. Forget the "just say no" stuff; teach them what to say yes to!

Say yes to knowing who you are, where you came from, and why you are important. Say yes to self -respect and respecting others. Say yes to wanting to be something other than a comedian, actor, musician, or athlete. Those slots are taken. Say yes to math, science and even the arts. Say yes to being number one or better yet to being a leader. Say yes to being a successful entrepreneur; we need a lot more of them. Say yes, "Yes" to being smart!

Let us make the leap and give Tom Joyner and friends something new to joke about. After all, present jokes are not as funny anymore!

Other related articles

UCF Failed to Formally Report Severe Hazing Allegations to Police for Investigation

10 Reasons Why You Should Read to Your Kids

Virginia Hazing Update: Marvell Edmonson and Jauwan Holmes, Virginia State students, mourned after club initiation deaths

Education is a boring subject for most of us and a turn off when it comes to reading blogs. It is more fun listening to Tom Joyner and company in the morning, joking about African American names that you cannot pronounce and the abundance of bad credit among African Americans. It is his job to make us laugh and it is therapeutic to laugh. We are good at laughing at ourselves.