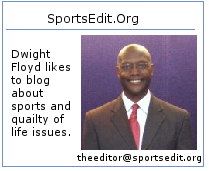 This is not about making excuses or looking ahead to next year. When you are trying to understand the mistakes and penalties, and for some, find blame for the way the Florida A&M University football team is playing, perhaps you should consider the youth on the team. The offense is young and mostly inexperienced. The defense on the other hand is filled with juniors and seniors. Where they are young on defense, you can tell the difference on the field.
Quarterback – The starting position is held by a redshirt sophomore, who started the latter half of the season last year. Somehow after winning four games we expected to see a mature quarterback that could lead us to a breakout season. The more reasonable expectation maybe, is that he'll have a breakout game soon, and at some point, began to be the quarterback we expect. Just as in life, it all depends on whether he can learn from his mistakes. If not, there is a red-shirt freshman and two outstanding freshmen who are redshirting this year. Will any of them be ready in 2018, or will FAMU have to recruit a proven junior college transfer to give the freshmen time to mature? For FAMU, this is the most critical position on the field. What Ryan Stanley does the rest of the season will determine just how stable the position is.
Running Back – Junior running back and former walk on Devin Bowers is the starting running back. Earlier in the season the number two and three running backs, redshirt sophomore Hans Supre and redshirt freshman Ricky Henrilus, were injured. Coaches have high hopes for 5'10 and 185 pound redshirt freshman Azende Rey, who is starting to see playing time. Bowers appears to be the only healthy running back that is patient enough to wait on his blocking and find the holes. He is quick, but not fast. Senior Tevin Spells has proven he can help get crucial short yardage when needed. Once the other young running backs learn how to use their blockers and adjust to the speed of the game at the college level, we'll see more break away runs. The talent is there, but it is inexperienced and quite young.
Offensive Linemen – FAMU has not been able to recruit the 6'4", 300 pound lineman on average, but they have recruited linemen with excellent ability. The most experienced offensive lineman is at center. The 6'3 and 295 pound senior, Osman Aguilera, has been solid. FAMU has already identified his replacement for next year and is grooming an almost identical prototype in 6'4 and 300 pound redshirt freshman Zach Saffold. Guard Obina Kwanko at 6'3 and 280 pounds started last year as a freshman. He is one of the reasons the running game is starting to be successful. Obina is backed by a redshirt junior. Opposite him at guard is freshman Andre Regis at 6'5" and 295 pounds and redshirt junior Myles Rouse at 6'4″ and 285 pounds. Rashad Williams at 6'5 and 290 pounds is listed as the only senior on the offensive line.
Receivers and Tight Ends – The receiving corps is a mix of experinced seniors and young, talented, and confident freshmen and sophomores. Leading the way are talented seniors Kareem Smith, Brandon Norwood, Chavis Murphy, and tight end Desmond Noird. Fans have also heard from redshirt freshmen Chad Hunter and Dock Luckie, and redshirt sophomore Marcus Williams. Behind them are sophomores and juniors waiting to crack the lineup and highly recruited freshmen receivers and tight ends that were signed in 2017.
Defensive Linemen – The defensive linemen by comparison with other teams are relatively small, but deceptive. Unlike past years, the defense tackles well. Particularly against the pass, the defensive line has been strong. Redshirt senior defensive end Calvin Darville was having an outstanding year until he experienced a season ending injury. Junior Antonio Miller has taken his place. Senior Elijah Price, sophomore David Richardson, junior Emilio Gibbs, and senior Elijah Watkins are all seeing time. Freshman De'Montre Moore, redshirt freshman Josh Crutchfield, and sophomore Josh Crutchfield are there to back them up.
Linebackers – The linebacking corps has shown noticeable improvement over last year. Senior leadership includes the outstanding play of Jakaris Wilson and Raashed Kennion. Complementing them are freshman Elijah Jones, and juniors Quenteze Gallon, Jibreel Halzey, and Elijah Richardson.
Defensive Backs – Sophomore safety Terry Jefferson and junior cornerback Orlando McKinley, who also runs back kickoffs, lead the defensive backs. The lone starting senior defensive back is Jules Dornevil. Other supporting cast include redshirt freshman free safety Andrew Hines, redshirt freshman safety Mack Green, junior free safety Jalen Douse, and senior cornerback Michael Perceval.
Kicking Team – In 2017, coach Wood brought in former coach Roderick Plummer to reignite the kicking game. Kickoffs and kick returns have given the offense and defense good field position. The punting game has shown improvement, considerably in the last game against the NCAT Aggies. Extra point and field goal kicking has yet to make an impact. All last year and the first games of this season, the Rattlers were without highly touted kicker Kahlil Clark. He is overcoming injuries that occurred off the field and has missed two extra points. FAMU has not made a field goal this year. Clark has shown that he has the leg, so as a redshirt freshman he just needs the consistency. Punting is true freshman Chris Fadoul, who was thrown into the mix from the start. He is capable of averaging 40 plus yards a game and it is starting to show. Transfer junior kicker Yahia Aly was a late, but welcomed addition to the Rattler roster. He has sealed the position as the starting kicker on kickoffs. Senior receiver Kareem Smith brings experience to the kicking game as the starting punt returner.