2016 Schedule (printable)
2015 Conference Record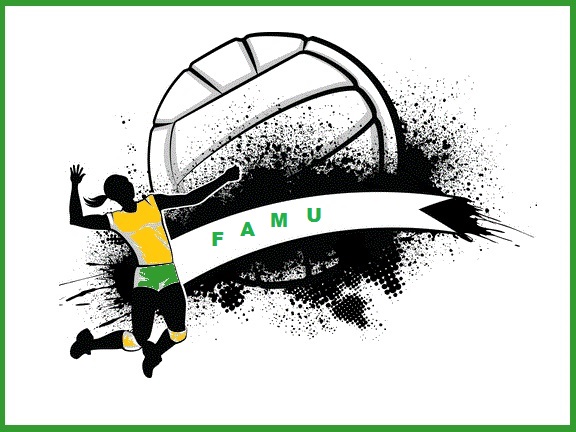 The Florida A&M University Rattler Volleyball 2016 Edition will face one of its toughest schedules in years. It will compete against 2 teams that finished ranked in the top 25 in 2015 and four teams, Florida, Florida State, Miami, and Costal Carolina, that made it to the NCAA playoffs last year. These Rattlers will face 4 teams from the Division 1 Sunbelt Conference, 3 teams from the Atlantic Sun Conference, and 2 teams each from the ACC, SEC, and Conference USA. Playing only 5 MEAC Conference teams in the Southern division, the majority of the schedule will be against non-conference opponents.
Rattler fans in the southeast USA will have an opportunity to support the women's volleyball team as they travel to tournaments in Miami, Florida, Mobile, Alabama, and Gainesville, Florida. Early in the season fans in Tallahassee will get to see the 2016 volleyball edition when the Rattlers and FSU Seminoles co-host a tournament on September 8th and 9th at the AL Lawson Center and Tully Gym in Tallahassee. In addition to these tournaments FAMU will face the University of Georgia in Athens, Ga and the University of North Florida in Jacksonville.
On Friday evening, September 23rd, the Rattlers will begin conference play against the South Carolina Bulldogs in Tallahassee. They will continue conference play through October and November with a game against the University of North Florida in Tallahassee, and Troy State in Troy, Alabama at the mid-point of conference play.
FAMU will have a full and completely competitive roster. Senior middle blocker Dei'ja Martin, a preseason MEAC first team selection, and junior outside hitter Pamela Soriano will lead the way. Also returning are setter Valerie Lopez, outside hitter Starmichael Tucker, libero Carassco Valentina, and middle blocker Gina Chavez-Lopez. Coach Trifinov will have more to work with this season in gaining a host of new comers that include 5'11" outside hitter Alexandria Hightower of Chula Vista, California, 5'10" outside hitter Alexis Gosha of Apopka, Florida, 6'0″ outside hitter Nicole Abrue of Lima, Peru, 6'1″ middle blocker Nair Canessa of Lima, Peru, 6'1″ outside hitter Maria Yvett Garcia of Santo Domingo, Dominican Republic, 6'1″ setter Elena Dimitrova of Sofia, Bulgaria, and 6'2″ outside hitter Radka Dimitrova of Sofia Bulgaria.
Among their goals are to defeat the Bethune Cookman Wildcats, who beat them twice in 2015 and win the MEAC post-season conference championship. Bethune is picked to finish first in the Southern Division and FAMU second.
2016 FAMU Volleyball Regular Season Schedule

Date
Opponent
Conf.
2015 Record
2015 NCAA
RPI
Where
Time EST

Florida International University/University of Miami Tournament

Fri/Aug 26
#Coastal Carolina
Sun Belt
25-7
#84
Miami, FL
11:30 AM
Fri/Aug 26
Miami
ACC
21-10
#44
Coral Gables, FL
6:00 PM
Sat/Aug 27
FIU
C-USA
15-13
#155
Miami, FL
7:00 PM

University of South Alabama Tournament

Fri/Sept 2
FIU
C-USA
15-13
#155
Mobile, AL
11:30 AM
Sat/Sept 2
SE Louisiana
Sun Belt
13-15
#163
Mobile, AL
5:00 PM
Sat/Sept 3
South Alabama
Sun Belt
13-18
#249
Mobile, AL
2:00 PM

Florida A&M University/Florida State University Tournament

Fri/Sept 8
Little Rock Ark
Sun Belt
14-14
#115
Tallahassee@
7:00 PM
Sat/Sept 9
Florida State
ACC
25-8
#28
Tallahassee*
1:00 PM
Sat/Sept 9
Baylor University
Big 12
17-13
#47
Tallahassee@
7:30 PM
Tu/Sept 13
Georgia
SEC
5-25
#220
Athens, GA
6:00 PM

University of Florida Tournament

Fri/Sept 16
Florida
SEC
25-7
#5
Gainesville
12:00 PM
Fri/Sept 16
Marshall
C-USA
16-14
#159
Gainesville
5:30 PM
Sat/Sept 17
Jacksonville
A-Sun
12-16
#131
Gainesville
1:00 PM
Tu/Sept 20
N Florida
A-Sun
21-11
#138
Jacksonville
6:00 PM
Fri/Sept 23
S Carolina State
MEAC
4-19
#329
Tallahassee
7:00 PM
Sun/Sept 25
Savannah State
MEAC
0-31
#331
Tallahassee
3:00 PM
Fri/Sept 30
Bethune Cookman
MEAC
15-16
#255
Tallahassee
7:00 PM
Fri/Oct 7
N Carolina Central
MEAC
5-24
#328
Durham, NC
7:00 PM
Sun/Oct 9
N Carolina A&T
MEAC
7-14
#321
Greensboro, NC
3:00 PM
Tu/Oct 11
Troy
Sun Belt
14-18
#174
Troy, AL
7:00 PM
Tu/Oct 18
N Florida
A-Sun
21-11
#138
Tallahassee
6:00 PM
Fri/Oct 21
S Carolina State
MEAC
4-19
#329
Orangeburg, SC
7:00 PM
Sun/Oct 23
Savannah State
MEAC
0-31
#331
Savannah, GA
3:00 PM
Sun/Oct 30
Bethune Cookman
MEAC
15-16
#255
Daytona Bch
3:00 PM
Fri/Nov 4
N Carolina Central
MEAC
5-24
#328
Tallahassee
7:00 PM
Sun/Nov 6
N Carolina A&T
MEAC
7-14
#321
Tallahassee
3:00 PM
#Big South Champion/@Al Lawson Center/*Tully Gym