With You Always (LIFT HIM UP) performed by Omega Forbes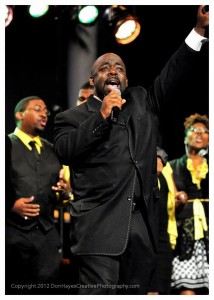 It is hard for a professional artist to thrive in a city like Tallahassee. There have been a number of successful artists to originate from Tallahassee like actress Faye Dunaway, music producers Daryl Tookes and Curtis King, and the late Cannon Ball Adderley. For all of these the road to success required leaving Tallahassee. Not everyone leaves though or measures success by fame and fortune. Such is the case of Omega Forbes, who in the entertainment industry would best be described as a treasure in the wilderness.
Tallahassee is a college town (Florida State, Florida A&M and Tallahassee Community College as well as Kaiser College) and there is so much untapped talent. With the abundance of available talent much of it is taken for granted. Moreover, football is the prime religion where on any given day you can get over 80,000 people to attend a single college game while 500 to 1,500 people attending a church service on Sundays is considered a large gathering.
For over fourteen years Omega Forbes has produced some of the best contemporary gospel music in the industry supported by a strong contingent of family and friends, who not only back him up on stage, but in everyday living. Omega describes them as "A community group of family members as well as close friends, who are great singers and worshipers. (The) Majority are involved in some sense of ministry at local churches, and all come from different denominations." Known as the Family and Friends Chorale, they are a set of singers, instrumentalists and music producers, who help make an Omega Forbes concert extraordinary.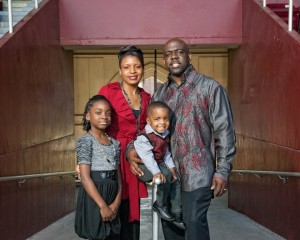 Yes, there are many vocalists and groups like Omega Forbes and the Friends and Family Chorale. That is until you look closer at what makes them successful. For Omega Forbes and his wife Taneka the ministry begins in the home and not on stage. Gospel music is not an outlet, it is a way of life. Omega and Taneka share in the belief that they are destined to gospel ministry and each other, which is expressed in their 2003 album, LIFT HIM UP, through a song appropriately entitled Destiny. Though Taneka is most often seen in the background as a backup singer, her devotion to the ministry is just as strong. Together they have chosen to live by the gospel and share in it; neither feeling overshadowed by the other.
The Forbes have two children, Destiny who is 11 and 5 year old Omega II, better known as Zoe. Destiny is a singer, pianist, dancer, and actress. She also excels in school. Zoe loves to sing and practice karate. They are both heard performing on the 2007 album DUE SEASON through the song Intro to Dance With Me.
Before Marvin Sapp made Never Could Have Made It a hit song, Omega produced and performed his original version on the 2003 album LIFT HIM UP. The song was so popular that another artist, Minister Leofric Thomas performed it on his 2009 album along with a Never Could Have Made It-reprise and two other Omega originals: He Stepped In and the album's title song With You Always. The infamous gospel singer Troy Sneed also recognized Omega's talents by including three Omega originals: I'm Still Here, You Remain Faithful, and With You Always on his 2009 album IN DUE SEASON. In 2006 the Youth for Christ (YFC) included Omega's Blessed Be the Name on their album THE STRUGGLE IS OVER. Their 2004 album LOVE COMES IN ALL COLORS includes an Omega original: Shine On Me.
Omega's original Never Would Have Made It performed by Leofric Thomas
Record sales depend largely on radio play, the popularity of the artist and the ability of the album to relate to the audience. It is also important in gospel music that the song can be replicated by local choirs and soloists. Omega has produced 5 albums (not counting his Christmas Album) beginning in 2001 with YOU MEAN SO MUCH TO ME. He favors DUE SEASON and his 2011 album THE NEXT CHAPTER as his best, but if you listen to them all the 2007 album, LIFT HIM UP is just as good. In both albums, LIFT HIM UP and THE NEXT CHAPTER, Omega shares the stage with rappers and other very talented solo artists. He is not shy about inviting some of the very best local artists to appear with him on his albums and incorporate multiple styles of music. LIFT HIM UP includes Lead Me and Guide Me, a song that will remind you of the Mississippi Children's Choir. Popular songs With You Always and his original Never Could Have Made It appears on this album too. The most powerful song though is Destiny, with lyrics that unmistakably define the Forbes ministry.
Taneka Forbes (The Next Chapter) performing Holy Is the Lamb
For those who are looking for worship songs look no further than THE NEXT CHAPTER. Taneka's original rendition of Holy Is the Lamb gives listeners a chance to worship and praise. On the same album Omega reaches into his Pentecostal roots to perform Overruled with an all-male chorus backing him. Omega recommends I've Come Out on Top to listeners, while Over Flow is an uplifting reminder of where blessings come from.
There is not a description that can adequately explain the power in the music of the Omega Forbes ministry. Only a live performance by Omega and the Family and Friends Chorale can overshadow what you will hear from any of his albums. For those of us who have performed on stage with the likes of The Sounds of Blackness, Shirley Caesar, and Carlton Pearson we know that Omega Forbes is truly a treasure in the wilderness. A great amount of that treasure is not just in the music that he writes, but in the ministry of the man and woman behind the music.
Where to buy:
ITunes
The Next Chapter, 2011
Lift Him Up, 2003
Reverbnation
The Next Chapter, 2011
CDbaby
Due Season, 2007
I've Come Out on Top (The Next Chapter) performed by Omega Forbes